Holiday Open House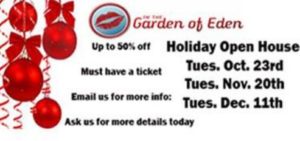 We're having a monthly Holiday Open House until the end of the year at the Republic Road store, just for you – our customers. You'll need a ticket, which is free, but you can save up to 50% off!
For more details, call us at (417) 889-6521!
Divafest 2019
Join us for 92.9 The Beat's fist annual Divafest! This Ultimate Girls' Night Out will be held in the Diamond Room at the Fork and Spoon on Saturday, January 19th, 2019 from 5:00 to 10:00 PM. Divas, come dressed to impress and prepared to shop, taste, sip, be pampered, and PARTY with DJ Valence the entire evening!
Attendees will find everything their inner Diva craves, starting with the event photographer and red carpet entrance, selfie mirrors, mini spa treatments, and the latest health, beauty, & fashion trends. Divafest will thrill and delight with unique sampling experiences, very special happy hour prices, and at the end of the night, there will be a raffle for a trip giveaway – with money going to benefit the Harmony House!
Further details, including how to RSVP, to come!